Garlic is my go-to for adding flavor to food, I use it all the time at home and work… Probably too much if there is such a thing? You may already know that garlic has great health benefits besides being a vampire repellant. Garlic holds a compound called alliin which helps the immune system, but only when it is crushed or chewed. When it becomes crushed and or chewed the alliin compound turns into allicin, which is what gives garlic that distinctive smell and flavour, but that's also when garlic becomes good for your immune system. It is always best to let garlic set for about 10 minutes once you have crushed or chopped it, this will allow the allicin compound to activate more and get the best immune benefits from it. Having more garlic in your meals on a regular basis is always the best practice.
Knowing now that garlic when crushed or chewed is good for the immune system is great, but let us put it in some food and get cooking with it. You most likely already use garlic mainly in dinner aspects or lunch but let us get it in breakfast our first meal of the day.
Right garlic for breakfast, maybe too much for some people as it has a noticeably big flavor that can linger. Not me though, I love this stuff! So how are we gone to slip this into our first meal of the day and not be overpowering? Well we could make a nice hash potato and add in some chopped garlic to give it more flavor that would be the easiest, but we would not be using that much. So, for something different and spring-like how about a walnut pesto omelet? Or even over scrambled eggs! It's fresh, tasty, and we will be using fresh chopped garlic and a lot of it. For this to work you will need an exceptionally good pesto recipe, not to worry as I have one for you. We used this recipe last winter in one of our pasta dishes at Sparkling Hill, but will work great in an omelet. What I would also add to the dish just to make it that much better is some fresh tomatoes and cheese, a little parmesan will go nicely with this. Once you make the pesto you can keep in an airtight container in the fridge and will last you a few weeks, if you do not eat it all that is…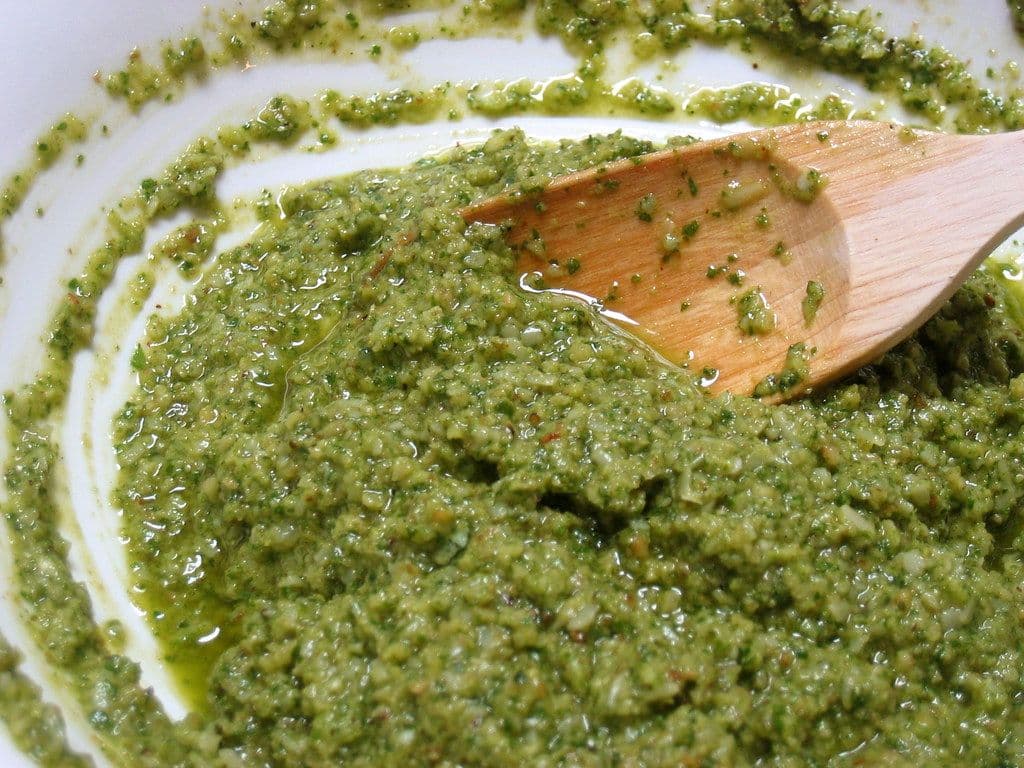 You can always use the pesto at lunch as well, as a pesto pasta salad or on chicken with salad, there are so many options for this pesto and can be a great go to for adding garlic into your diet and daily routine. As for lunch though let us make something that we can also use as a side dish for dinner or for that family BBQ! I am talking spring style potato salad with spring radishes and herbs, you can even add in some canned tuna for that protein fix and bulk it up for lunch. Not a tuna fan? Add in some chicken breast or tofu if you want to go vegan on this stellar potato salad. As for the garlic, we are going to make a garlic confit dressing for it. If you don't know what confit is, I can help you there! It is delicious and easy to make and will last a long time in the fridge as well. Confit comes from the French word confire which means to preserve, preserve by cooking low and slow in fat, oil, or sugar water and then it is cooled and preserved in the fat.
I do suggest doing this ahead of time by a day or so. Once you have the garlic confit done, I would steam off your new baby potatoes, cut them up and add in your ingredients for the salad, get that dressing on there, and then let it chili in the fridge for a few hours or even better the day before. For this salad besides the awesome dressing you have already made you will want radishes, red onion, cilantro, parsley, lemon (juice and zest), celery, salt, pepper, paprika, and red bell peppers. You want to cut the other veggies smaller than the chopped steamed potatoes, as for the herbs you want even amount cilantro and parsley and salt and pepper to taste, for the paprika just a few pinches will do. Then for the lemon we want to zest it over the mixture and squeeze out the juice as well for some extra tang to our salad. Once you are ready to serve try adding in some fresh baby arugula to add some freshness and green to the salad.
Well this all sounding great, pesto for breakfast, epic garlic confit potato salad – Eating like a chef at home is not that hard and we are boosting that immune system as we go.
Let's talk dinner now…
Now that you have garlic confit in your fridge, we might as well use it and for that BBQ steak, instead of just marinating the steak in some store bought spice and raw garlic lets rub some garlic confit on there, it's really good! You can put it on anything really, chicken, fish, pork, grilled veggies, the options are endless. For a quick easy steak rub check out this little recipe.
Well we are certainly cooking with garlic now and boosting that immune system as we eat. We have gone over a few recipes here, play with them at home and tweak them as you see fit, as cooking recipes can be changed and more geared towards what your and your family's taste buds might be. On a side note, garlic powder does not really count. You can get the immune properties from ground garlic spice but would take a heap of it to do so, using fresh is the way to go.
As we are in part four in my top five immune boosting food, next weeks' will bring us to the last one, ginger!
Until then happy cooking and stay healthy!
Ingredients we used that also have immune benefits
Onions – Sulfur compounds, Zinc, Vitamin C.
Olive oil – Antioxidants
Citrus – Vitamin C
Radish – Vitamin C
Basil – Antioxidants
Parsley – Vitamin A, C, K
Parmigiano-Reggiano – Vitamin A, B6, B12
Walnuts – Vitamin B6
Cilantro – Antioxidants
Red bell pepper – Vitamin A, C, Antioxidants
Arugula – Vitamin C
Honey – Antioxidant
Paprika – Vitamin C