Our skin consists of 2 main layers, our dermis and epidermis (epi meaning outside layer). So the outer layer of skin that we see is actually the oldest, as the dermis is the deeper layer that regenerates, pushing the older layers upwards towards the surface.  Not only does our skin protect us from the elements, it helps manufacture Vitamin D from sunlight, helps the body regulate and detoxify through sweating, and lets us experience the world through sensation. That's a pretty big workload, so what can we do to support our skin's health, vitality and longevity?  As well as making it feel soft and smooth?
A lovely way to help your body's natural skin sloughing process is through exfoliation, or removal, of the top few "dead" layers.  There are 2 types of skin exfoliation mediums, chemical and physical.  Chemical exfoliation involves using a substance such as acids or enzymes to dissolve the skin, whereas physical exfoliation uses an abrasive substance such as ground salt, sugar, nuts, shells, etc to scratch the skin off.  Both are effective, although certain chemical exfoliants should only be used by skincare professionals to avoid injuries, burns, and/or scarring.  Today we are going to make our own physical exfoliant.
Here at the KurSpa, we use 2 types of abrasives, sugar and salt, to make up our body scrubs.  Our Crystal Scrub is salt-based and similar to what we will be making today.  You will need the following ingredients:
½ cup of finely ground salt – KurSpa uses a fine ground Himalayan Pink Salt for its' detoxifying and remineralizing properties however any fine ground salt will work
¼ cup of oil – Our special Blend Massage oil made for us by Natural Concepts in West Kelowna is a beautiful mix of Olive, Sunflower and Apricot Kernel oils.  We recommend using a light oil such as Grapeseed or Jojoba oil as both are easily washable. Jojoba oil is also one of the closest to the natural oil our skin produces
5-10 drops total of your preferred essential oil(s) – our Body Scrub essential oil blend, also made for us by Natural Concepts, has Sweet Orange, Sweet Fennel, Juniper Berry and Pink Grapefruit essential oils for its astringent and uplifting properties
Glass container with a re-sealable lid – to store any unused scrub for next time
To make the scrub:
Blend the ¼ cup of oil with your essential oils in a small cup to ensure they are mixed well
In a larger, separate bowl measure out ½ cup of your finely ground salt
Add the blended oil and stir, aim for a slushy consistency
If your scrub seems dry, add more oil; if it seems too wet, add more salt
Now for the fun part!  Let's get that old skin off to reveal the glow underneath!  You should have enough for at least a full body scrub, maybe 2 depending on how much you need for your skin. As this is a salt-based scrub, do not use over freshly shaved skin as it will sting and potentially cause irritation.  If you do shave, this is a great way to prep the skin for a shave the next day (you will want to wait at least 24 hours).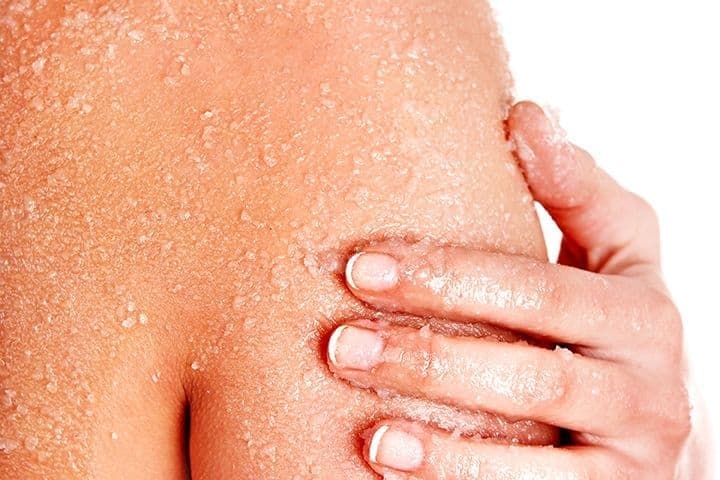 Have the scrub where you can reach it in the shower but safe from any water getting into it.  Step into the shower to wet your whole body, then turn the water off.  You can start with arms or legs, it's up to you, just remember to always work your strokes towards your heart to encourage better lymphatic flow and drainage.  There are two types of strokes you can use:  small circular motions or up/down strokes.  You do not need to apply much pressure, a lighter touch with more strokes will give your skin a beautiful exfoliation.
Now as everybody is different, there is no magic number of strokes your skin will need to be properly scrubbed. The best way to tell it is time to stop is when you see your skin becoming slightly pink.  Once that telltale light pink shade appears, time to move along to the next part of the body.  Be sure to get the tougher "outer" areas of the body where the skin is thicker such as knees, elbows, and outer hips with a few extra strokes.  By contrast, ease up on the pressure and amount of strokes on the "inner" areas of the body where the skin is thinner, such as inner thighs, back of knees, chest, inside of elbows, and forearms.  As this scrub is very granular, you do not want to use it above the collarbones, we recommend a scrub specifically made for the unique skin of the face and neck.  When scrubbing your abdomen, be sure to use a circular and clockwise stroke to mimic the direction of your digestive tract.
Now that you are covered in salt, time to rinse off!  Using simply water and a washcloth if necessary, get all the scrub off gently.  Remember to be very careful standing in the tub as it might be slightly slippery from the oils in the scrub.  Once you are all rinsed off, you can turn the water off and get out of the shower.  No need to wash with soap, you want to keep those beautiful oils on the skin.  Gently pat your skin dry and then remember to moisturize the whole body.  That newly revealed skin will need some moisture to protect it and bring out the fresh glow.
This simple scrub recipe can be made with different essential oils to match your mood and time of day.  Think of bright, uplifting oils like citrus for the morning and relaxing oils like Lavender and Chamomile for the evening.  Keep following Wellness Wednesday blogs for more aromatherapy information coming soon!